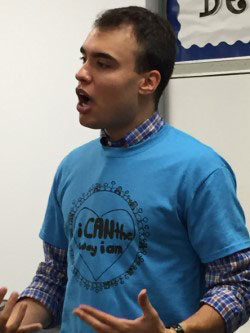 ---
I. Presentations for Students in Grades 5 through 12
David's passion for enlightening young people stems from having experienced tough tween/teen years himself. Dave is motivated to spare students from the struggles he endured, and he believes that education and subsequent comprehension are the means to this end…he "gets" students and is able to uniquely reach them, making him an ideal speaker for teens.
Whether in the classroom, at a youth group gathering, or at a whole-school assembly, David is able to connect, impact and entertain. Using autism awareness as a springboard, Dave emphasizes acceptance of differences: in others AND self. He reveals the impact bullying had in his life, and he imparts lessons he learned that changed his course and lead to personal fulfillment: being true to self, accepting help, and handling adversity, to name a few.
---
Experience all this and more in:
"P.E.T.R.O. Power"
People Empowered to Respect Others
A pro-compassion approach that aims for bullying prevention
David entertains while he enlightens and puts a positive spin on negative realities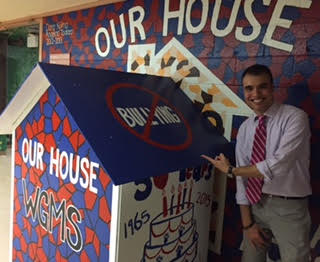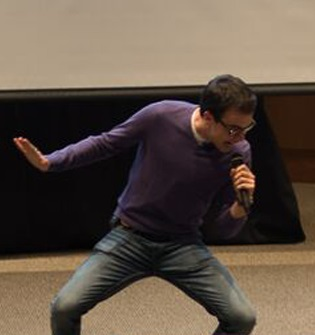 Topics covered:
Autism awareness
The effects of bullying
Acceptance of differences
in others AND self
Overcoming adversity
Accepting help
Maximizing potentials
Living with compassion
Power to make a difference
Program Impacts:
Students confide hope and inspiration
Students with differences see,
through David, that they are not limited
Students reframe their thinking
Stereotypes of autism &
differences are broken
Students relay motivation
to live with kindness
Quick Facts:
Program is 50 minutes (flexible on length)
Targeted to students in grades 5 to 12
Presentation includes a reflection exercise
Students are challenged with a call to action
Students receive a "reminder" parting gift
---
Testimonials from Middle-School Students:
"Dear David Petrovic, thank-you for your inspirational message. It was a beautiful story, and it made me cry. I have personally not been bullied, but some of my friends have. I feel for you. I wish you didn't have to go through that, although at the same time I'm glad you did so that you could share your story with others and help them. You can inspire many people, even people who have not been effected by bullying. You have made me a better person who wants to help more people, more often. Thank you!"
"Your message touched so much in many ways, mostly me . . . You did so much to encourage people. I was bullied by people called "popular" and spreaded rumors all over . . . I was . . . depressed, self consious . . . When you came, it made me think a lot. thank you. My best friend have stopped talking for like a week and then . . . [a]fter the assembly, we ran up to each other and said we are sorry. You took this bullying thing to another level. A good level . . . it made me feel like I can help people. Now ever since I got bullied, I hated myself, and now I can pull through."
---
II. Presentations for College Campuses
For most students, college presents new exposure to diversity and is a stepping stone to "real life." David is thus the ideal college speaker, helping students learn to accept differences in others and eliminate stereotypes of disabilities. Dave empowers students with new perspectives and empathy…maybe even enabling fresh insight and acceptance of their own differences. And isn't this the ultimate preparation for success in the work place? He also shares lessons he learned that may help students transition to the independence of college and pursuit of their dreams.
Using autism education as a springboard to speak of life with differences, David reveals his journey in overcoming adversity and emerging victorious: accepting and loving himself for whom he is and ultimately finding fulfillment. His trials and discoveries are not unlike what other persons may encounter, "typical" or not, giving universal relevance to his words.
---