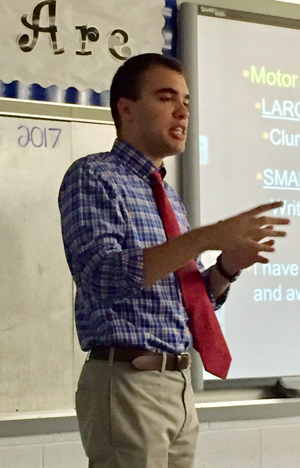 A Speaker for Educators About Autism in the Classroom
There are three primary avenues through which David can enhance professional development and student learning in regards to autism in the classroom!
1. Invite David to your next faculty meeting, in-service day, or conference for a unique, valuable, and memorable presentation: "Insights from Both Sides of the Desk"
David imparts practical information that helps educators understand the needs of their students with autism and students with learning differences, whether in mainstreamed classrooms or special education settings. Supplementing the intellectual knowledge and expertise that professionals have received throughout their academic training, David has a gift of enabling his audiences to understand and experience life with autism, unlocking comprehension and empathy that takes teaching to a new level. This talk is intended for faculty and associated service providers in schools or colleges: teachers, speech/language therapists, occupational therapists, psychologists, intervention specialists, counselors, and auxiliary staff.
Briefly reviewing the characteristics of autism that most challenged his learning and development, David imparts the personal and cumulative impacts of his differences. He believes that adversity has great purpose, and reveals the realizations that lead to his self-acceptance and happiness.  He strives to enlighten educators about the realities and potentials of those with differences, debunking stereotypes and changing perspectives. Dave aspires to help professionals increase their awareness of the needs of students with autism and other differences, and stresses the focus on individual strengths to help power through challenges. He strives to increase comfort and effectiveness with autism in the classroom. David provides strategies that have worked for him, both as a teacher and as a student with special learning needs*.
*Note the option of Sandy joining David for this presentation. As an instructional advisor/tutor at Notre Dame College's Academic Support Center, she adds perspectives gleaned from working with students having a variety of learning differences…besides the practical experience of raising a son on the autism spectrum.
2. Invite David into your classrooms to enlighten students
a. In college classrooms, David shares his knowledge and perspectives with aspiring professionals in many fields: psychology, education, special education…
"David has an ability to educate audiences in a most engaging and animated manner. He is a truly outstanding speaker with a clear message and voice that needs to be heard. My students were riveted and genuinely moved by his talk. I recommend him most highly as an orator who can truly connect with college audiences about issues that matter. He is a breath of fresh air and will not disappoint."
Dr. Tracy Masterson
Associate Professor of Psychological Science
John Carroll University
b. In grades 5 through 12, David inspires students to understand those with differences (autism education provided), live with empathy and compassion (thereby preventing bullying behaviors), and strive to be the best they can be (embracing their uniqueness and strengths).

3. Consider assigning our book as a required reading in coursework, supplementary assigned summer reading, or as a suggested reading for educators/staff