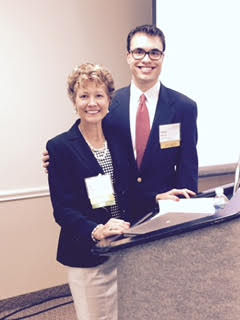 "Attaining Mutual Satisfaction in Health Care:
Strategies to Meet Needs of Patients with Autism Spectrum Disorder"
Patients on the spectrum seek care in EVERY practice and specialty: inpatient, outpatient, pediatric, and adult. Caregivers thus need to understand their special needs and differences in order to deliver "culturally sensitive" and mutually satisfying health care. As a speaker for health care professionals, Sandy adds her clinical awareness to David's personal experience, thereby imparting realistic and beneficial strategies. This presentation is ideal for medical professionals, service providers, and ancillary staff: physicians, nurses, physician assistants, speech/language pathologists, occupational therapists, professionals/staff in radiology fields, phlebotomists, counselors, child life workers, psychologists, front office staff, and anyone else who is involved in the health care needs of clients on the spectrum.
Characteristics of Autism Spectrum Disorder often challenge health care delivery and can lead to suboptimal experiences for both patients and caregivers. This presentation will demystify autism. It expounds on breaking barriers and meeting the unique needs of both pediatric and adult patients on the spectrum; it addresses challenges related to sensory differences, wait times, resistance to change, and patient education. Collaboration by David and Sandy promises to give attendees a well-rounded look from valuable perspectives: he is a teacher and a patient with ASD, and she is a registered nurse who knows firsthand the needs and constraints of health care professionals in various settings, as well as the needs of patients on the spectrum. This presentation will assist health care providers to deliver individualized care more effectively and with increased satisfaction; patients and their families will thus benefit indirectly as partnerships are strengthened and experiences improve.
Attendee objectives facilitated by this speaker for health care professionals and her son/patient on the autism spectrum:
Participants will be able to identify at least five characteristics of ASD that challenge the delivery of health care/therapies for patients on the autism spectrum.
Participants will be able to state at least 5 strategies that will break down barriers and promote partnerships and satisfaction in therapeutic relationships with patients/families on the autism spectrum.