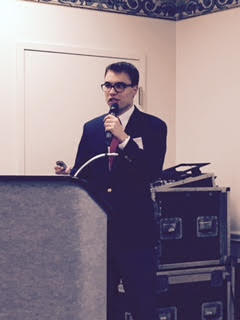 Improve cultural competence and acceptance of diversity within your institution!
Help employees with autism transition to your workplace.
Give your personnel and colleagues new insights and empathy in working with clients and co-workers who possess diverse backgrounds, lifestyles, ideas, and needs.
Help supervisors and HR personnel  meet the needs of employees on the spectrum!
For a unique experience, enjoy David as a corporate speaker on diversity. His juxtaposition of levity and seriousness creates a presentation that is long remembered and reflected upon. Using autism education as a springboard to speak of life with differences, David reveals his journey in overcoming adversity and emerging victorious: accepting and loving himself for whom he is and ultimately finding fulfillment. His trials and discoveries are not unlike what other persons may encounter, "typical" or not, giving universal relevance to his words. His gift of presenting novel perspectives will enhance understanding (of others and self), empathy, and indirectly, team work. Dave's strategies for integration of autistic employees will provide mutual satisfaction for BOTH employers and workers!
"David's presentation was moving, powerful and humbling. I truly recommend this to any school and/ or business to understand differences and embrace them. David is a true inspiration; he gives a glimpse into a child or young adult working through their differences and finding their gift."
Tawnia Novak,
Director
Total Education Solutions Ohio