Looking for a speaker?
All presentations include education on autism and how David came to embrace his differences and overcome adversity, but they can be customized to any length or focus. Different talks are available for:
students in grades 5 to 12 (emphasis placed on bullying and acceptance of differences and self)

See info below for details about our unique program that targets bullying! 

students in special needs programs
specific student/teen groups (i.e. retreats, orientations, Confirmation prep, etc.)
college classrooms (especially in the fields of education, special education, and psychology)
college campus groups
professionals in health related fields ( i.e. speech and language therapists, occupational and physical therapists, psychologists, social workers, health care providers)
educators
corporate groups
medical centers
community and private groups
autism conferences and fairs
autism support groups
parent groups (i.e. PTO gatherings)
theatre groups
open to other requests and mediums
Sandy often teams up with David to speak to community, parent, professional, and autism groups. She shares valuable perspectives on parenting a child with autism and partnering with professionals to maximize outcomes.
NEW!  Sandy (solo) introduces a 35 minute primary grade presentation for children in grades K through 4. The focus is on acceptance of differences and living with compassion. The goal is to prevent bullying behaviors.
David is also available for keynote speeches.
For more information and fees, e-mail aspergermiracles@gmail.com! 
Please visit our events page for sample talks!
---
Introducing P.E.T.R.O. Power…
People Empowered to Respect Others: A positive approach that aims for prevention and sustainability!
The program includes a presentation, reflection exercise, call to action, and companion faculty tip sheet.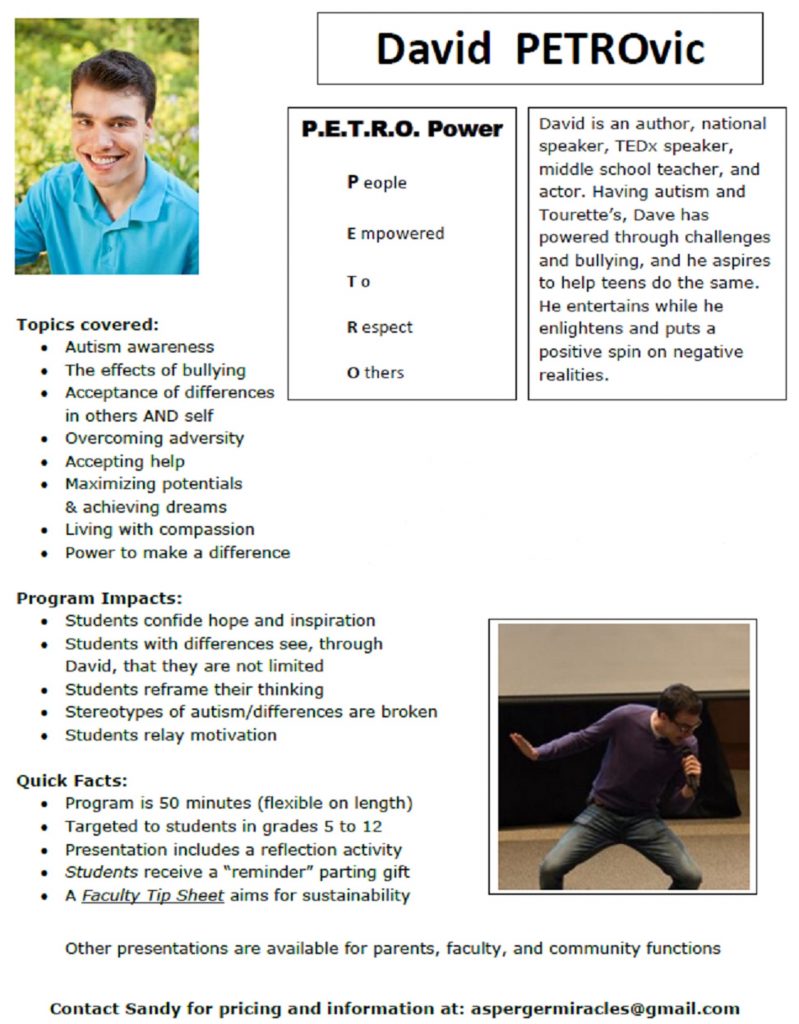 ---